Home » Spaceflight Simulator v1.5.1.2 (Modded)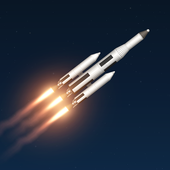 Spaceflight Simulator v1.5.1.2 (Modded)
Spaceflight Simulator v1.5.1.2 Mod Apk – DRIVE LINK

for Android
The Description Of Spaceflight Simulator v1.5.1.2 (Modded)
SPACEFLIGHT SIMULATOR:
This is a game about building your own rocket from parts and launching it to explore space!
• Realistically scaled planets, with some up to hundreds to kilometers in size, and million of kilometers of space between them.
• Realistic orbital mechanics
• Open universe, if you see something in the distance, you can go there, no limits, no invisible walls.
Current planets and moons:
• Mercury
• Venus ( A planet with a extremely dense and hot atmosphere)
• Earth ( Our home, our pale blue dot :) )
• Moon ( Our celestial neighbour)
• Mars ( The red planet with a thin atmosphere)
• Phobos ( Mars inner moon, with rough terrain and low gravity)
• Deimos ( Mars outer moon, with a extremely low gravity and a smooth surface)
We have a really active discord community!
https://discordapp.com/invite/hwfWm2d
Video tutorials:
Orbit tutorial: https://youtu.be/5uorANMdB60
Moon landing:
https://youtu.be/bMv5LmSNgdo
MOD:
All paid parts, textures and planets, as well as cheats are open (included in the game settings: endless fuel, disabling atmospheric resistance, indestructible parts and without gravity).
If the content is not unlocked, completely close the game and restart it with the Internet turned on.
Note:
– There's a button top center of the main menu press it then exit an re-open
– you might have toggle Infinite Fuel and no drag on an off after unlocking

ver. Spaceflight Simulator v1.5.08 Mod Apk – UPLOADED APK
ver. Spaceflight Simulator v1.5.08 Mod Apk – DRIVE LINK APK
ver. Spaceflight Simulator v1.5.1.2 Mod Apk – DRIVE LINK APK
Spaceflight Simulator v1.5.1.2 (Modded) Spaceflight Simulator v1.5.1.2 Mod Apk – DRIVE LINK Update
Changelog for 2020-08-09 13:52:52
Similar to Spaceflight Simulator v1.5.1.2 (Modded)