Home » Slenderman Hide & Seek v1.125 (Modded)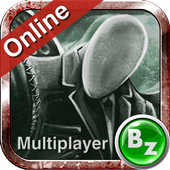 Slenderman Hide & Seek v1.125 (Modded)
Slenderman Hide & Seek: Online Battle Arena v1.125 (Mod Apk) – DRIVE LINK

for Android
The Description Of Slenderman Hide & Seek v1.125 (Modded)
If you lack adrenaline and adventure, if you want to try a new online game with horror elements, then our Slenderman Hide & Seek is waiting for you!

Slenderman App Features

By downloading our new scary application, you will get a online hide and seek game in multiplayer mode with friends, other users of the application in mode 3 vs 1.

How to play Slenderman Hide & Seek? It's simple: one of you takes on the role of Slender, and the other three players play the role of normal students who are so desperate to escape from him. All that can help you stay safe is the destruction of Slender dolls. Find them and do not leave them a living place! You will find them in chests scattered around locations. Do it faster than Slender catches you!

Slenderman Hide & Seek multiplayer game benefits

Ready or not, Slender is already following you! Our 4-player online horror multiplayer simultaneously has the following advantages:

cool and scary atmospheric locations that will keep you energized throughout the hide and seek game;
terrifying sounds and an appropriate musical range that will maintain a mood of horror;
exciting scary plot: you will have to find Slender's chests in the most interesting and unexpected places, which will not let you get bored;
the ability to choose a player: be a Slender and hunt for your friends or desperately run away from him as a defenseless student;
keep hiding, watch your every step, look where you are going and be careful - your neighbor Slender hears your every step.

Are you ready to run away? After all, you are already next! Our app is not about any funny stories and your fun cool time with friends, this case is only about a terrifying survival on more than 2 player or 3, an atmosphere of fear and your desperate attempts to avoid a terrible fate. Do your best to escape from good killer! Hello, it is one from TOP 10 scary games of 2020!
MOD:
ESP Shows Student Players
GodMode
Collect All Dolls
Super Crouch Move Speed
Super Jump
Max Aim Range
Max Hit Range
Instant Attack
Instant Unlock Chest
Slenderman Hide & Seek v1.125 (Modded) Slenderman Hide & Seek: Online Battle Arena v1.125 (Mod Apk) – DRIVE LINK Update
Changelog for 2020-11-17 09:53:57
Similar to Slenderman Hide & Seek v1.125 (Modded)
Post a comment below
There are no comments yet.
Authentication required
You must log in to post a comment.
Log in