Home » Dark Days: Zombie Survival v2.0.1 (Modded)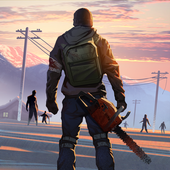 Dark Days: Zombie Survival v2.0.1 (Modded)
Dark Days: Zombie Survival v2.0.1 (Mod Apk) – DRIVE LINK

for Android
The Description Of Dark Days: Zombie Survival v2.0.1 (Modded)
Earth is different now.
An unknown epidemic nearly wiped out humanity, dooming it to an eternal struggle for survival. Almost the entire population was turned into bloodthirsty zombies.
The apocalypse struck and cities were overrun with the walking dead. The military dropped nuclear bombs in the most infected areas, but it was too late. The epidemic was out of control. All hope was lost.
People fled their cities to find shelter from the walking dead.
They started building shelters to survive their last days in the new post-apocalyptic landscape.
Fight. Gather resources. Build your shelter. Survive!
Dark Days is a tactical survival shooter!
Dark Days combines the best parts of shooter and survival games in one.
Your mission? Build your last shelter, gather resources, craft weapons and equipment, and wipe out hordes of zombies starved for human flesh in a post-apocalyptic world.
Survive to the very end and give hope to build a new world!
Gameplay:
- Build and upgrade your shelter
- Gather resources
- Craft weapons and equipment
- Original graphics style
- Massive world
- Intuitive controls
- Sophisticated item creation system
- Unique rewards for beating bunkers
- Tons of weapons and equipment.
And hordes of crazed zombies to kill roaming a post-apocalyptic world!
========================
COMPANY COMMUNITY:
========================
Facebook: https://www.facebook.com/AzurGamesOfficial
Instagram: https://www.instagram.com/azur_games
YouTube:
https://www.youtube.com/AzurInteractiveGames
MOD :
Endless money
Tools do not break
Free purchases for real money (for the store to work, you need to be logged into your Google account and go through the game to your base)
You can use skills without reloading them (for example, roll);
After starting the game, click on the round button at the top left to open the mod menu, which has the following options:
Endless energy
Increased experience gained.
Dark Days: Zombie Survival v2.0.1 (Modded) Dark Days: Zombie Survival v2.0.1 (Mod Apk) – DRIVE LINK Update
Changelog for 2021-06-08 21:21:34
Dark Days: Zombie Survival v2.0.1 (Modded) Additional Information
Similar to Dark Days: Zombie Survival v2.0.1 (Modded)
Post a comment below
There are no comments yet.
Authentication required
You must log in to post a comment.
Log in