Home » BT/USB/TCP Bridge Pro v4.5 (Full) (Paid) (1.2 MB)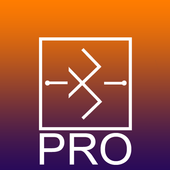 BT/USB/TCP Bridge Pro v4.5 (Full) (Paid) (1.2 MB)
BT/USB/TCP Bridge Pro v4.5 (Full) (Paid)

for Android
The Description Of BT/USB/TCP Bridge Pro v4.5 (Full) (Paid) (1.2 MB)
OVERVIEW
This app acts like a communication bridge between 2 devices of following types:
- SPP (Serial Port Profile) bluetooth devices
- BLE (Bluetooth Low Energy) devices
- USB devices (supported: CP210x, CDC, FTDI, PL2303 and CH34x chips)
- TCP server: app can create listening TCP server socket to which you can connect TCP client running on remote device
- TCP client: app can connect to listening TCP server
Typical devices are micro-controllers with a bluetooth module (like HC-06(SPP),BT09(BLE) etc...),USB to serial converters, other Android devices with bluetooth terminal apps, devices running TCP clients/servers, etc.
HOW IT WORKS
Incoming transmission from one connected device is retransmitted to second connected device and vice versa. You can change this behaviour to one directional transfer, for example only from device A to device B. Bidirectional retransmission is default and can be changed during active transmission.
Connecting to SPP devices
Click Connect/Listen and select device from the list of paired devices. Make sure other device is listening for incoming connections. You can also initialise connection from remote device. In such case use long click on Connect/Listen button which creates listening SPP port.
Connecting to BLE devices (only as device A)
When BLE device is selected, app starts scanning for nearby BLE devices. Select your device in the list of found devices. Characteristics and services are retrieved automatically. One characteristic can be used for receiving and transmission (one Rx+Tx characteristic),just click on characteristic which you want to use.
Connecting to USB devices
Your phone must support USB OTG function. Some phones detect more than one USB device, in that case you need to try which one is the correct one by changing parameter USB#. Following parameters are supported: Baud rate[bps], data bits, parity, stop bits, flow control. Flow control is implemented for CP2102, FTDI and CH34x chips.
Opening TCP Server
App can create listening TCP Server socket (you can specify port number). You can connect to it from remote device using TCP Client. Make sure your firewall allows such connections. This version allows connection of one TCP client.
TCP Client
App has also TCP client, which can connect to listening TCP server. As usual, you just need to specify server IP and port number. In case of connecting to PC make sure firewall is set up properly.
Unsupported
Unfortunately, devices like headsets and bluetooth speakers are not compatible with this app, since they use different bluetooth profile, neither SPP, nor BLE.
SUPPORT
Found a bug? Missing feature? Just email the developer. Your feedback is greatly appreciated.
[email protected]
BT/USB/TCP Bridge Pro v4.5 (Full) (Paid) (1.2 MB) BT/USB/TCP Bridge Pro v4.5 (Full) (Paid) Update
Changelog for 2022-01-14 16:54:27
BT/USB/TCP Bridge Pro v4.5 (Full) (Paid) (1.2 MB) Additional Information
Similar to BT/USB/TCP Bridge Pro v4.5 (Full) (Paid) (1.2 MB)
Post a comment below
There are no comments yet.
Authentication required
You must log in to post a comment.
Log in