Home » Horror Clown Survival v1.20 (MOD)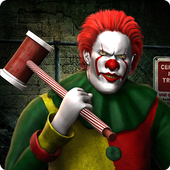 Horror Clown Survival v1.20 (MOD)
Horror Clown Survival v1.20 (Mod Apk) – UPLOADED

for Android
The Description Of Horror Clown Survival v1.20 (MOD)
The story begins as five young outcasts kids from native America are on the hunt of superficial scary shape-shifting evil that lives inside the haunted house in the midst of abandoned city. This bloodthirsty murderous evil clown has been living here since the beginning of times. These young lads banding together over the course of horrifying summer to once and for all end the evil reign of the devil town but their mission is not that easy at they thought in the beginning and instead town kids are stuck in the haunted house for real and are captured in their own worst nightmare. Now the friends must overcome their own personal fears to battle the murderous, bloodthirsty clown in haunted house. The car broke down just adjacent to the house, these lads came in for some help and it seems they shouldn't have come near the devils den rather continue their journey on the other side of the town, but adventure and mystery attracts the passers by to search for the answers and now the gang has to escape from the place in order to stay alive.
Do not get manipulated by the evil spirits, find the escape route from the haunted house, trusts your instincts, you will have to use all the tools that you have at your hand to complete the puzzle that will help you get out of here. You must be very careful at clues and at small differences, to think logical at how to escape quickly from this house full of mean ghosts.
Features of Crazy Evil Clown Game:
High-end 3D haunted house graphics.
Fearful and tension atmosphere.
Horror and interesting game levels.
Lots of ghosts, monsters and evil creatures.
Addictive and challenging rooms.
Tricky puzzles and innovative brainteasers.
Hidden objects, locks & keys and more challenges await!
Gorgeous graphics and different themed rooms!
Scary atmosphere.
High quality music.
High quality and Realistic graphics.
Compelling layers of mystery.

Download now the haunted game and enjoy the crazy scary themed evil killing game on Google Play!
MOD:
– buy any weapon and get a lot of money
– removed ads (click on remove ads)
– all levels are open (click on the UnlockEverything icon and restart the game)
Horror Clown Survival v1.20 (MOD) Horror Clown Survival v1.20 (Mod Apk) – UPLOADED Update
Changelog for 2020-07-26 22:26:36
Similar to Horror Clown Survival v1.20 (MOD)
Post a comment below
There are no comments yet.
Authentication required
You must log in to post a comment.
Log in